The card above was our first attempt at obtaining an artist drawn card. It's a two-part card...One side of the card was mine and the other side belonged to my wife. We had 2000 of each printed and have very few of them left. You can tell from that there was a lot of interest in the hobby.
Below is a 4-part card that we had drawn...One part mine...one part my wife's and half the card was paid for by our son with his newspaper delivery job. I've edited out the street and post office box addresses on all the cards so that the people in Georgia who use those addresses now don't end up with unwanted mail.
Before we started ordering the cards drawn by the artist I designed many of my own and had them printed at various places; one of which was my brother Ron who owned a printing press in Ohio. I'll eventually put some of them on a second QSL Card Page. I have enough on this page as the 4 part and two part cards are big files.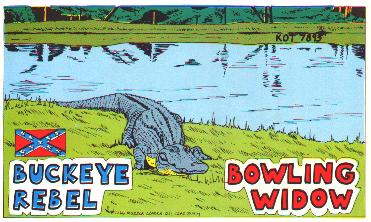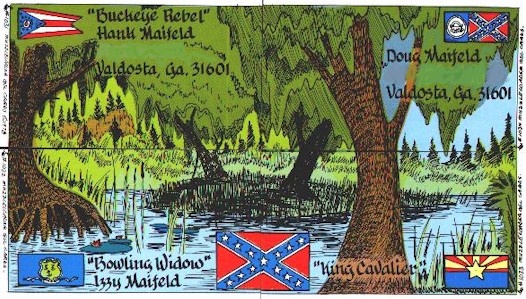 The "IN" thing to do in QSL Card Collecting in the 70s was to have Artist Drawn Cards. There were about a half dozen professional artists drawing cards for the hobby. The three premium artists were Running Bear, Muzzle Loader and the Running Bear Artist Series (where several different artists were drawing cards.) The card on the left was in that category and the one on the right was by the Muzzle Loader Group.
Each Card was numbered and the objective of the collecting was to try and get each individual card in the series. It became an impossibility towards the end because of greedy people who would not send cards out when requested. That was one of the main reasons for the break up of the hobby.
These are two of the many club cards that we had printed while we were into this hobby hot and heavy. QSL Card collecting helped pass the time away in Georgia. We made several trips up Interstate 75 to Cincinnati and on more than one occasion headed for Florida as Valdosta was not very far from the Florida border. My wife's brother Doug lived in Jacksonville and we drove there for a visit twice. He was also a visitor to Georgia with his family once.